See your card's worth in real-time.
TCGplayer Market Price shows you the value of a card based upon actual recent sales,
drawing from thousands of transactions each day across thousands of individual sellers
on our platform.
Share your feedback at sales@tcgplayer.com
Accurate, historical data.
Instead of relying on currently listed prices, TCGplayer Market Price uses the value at which a card has recently been selling as a key data point in the calculation of that card's worth. This makes TCGplayer Market Price a more accurate representation of a card's actual value, because it considers the point of sale in addition to the historical and listing trends, while ignoring outliers that would affect the traditional LO-MID-HI scale.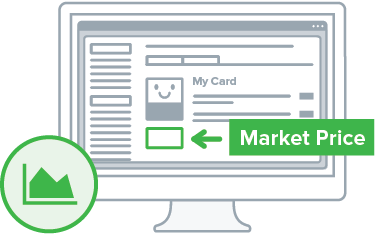 Send us feedback.
TCGplayer Market Price is currently in "soft launch," and we'd love your feedback on this
new way of calculating and displaying prices of your favorite collectibles.
Please share your thoughts with us at sales@tcgplayer.com. Thank you!